The Transport Museum

is going on a journey...
The Ulster Transport Museum at Cultra explores and exhibits methods of transport by land, sea and sky, past and present. Once a joint offering with the folk museum, it is now a stand alone attraction, in need of development which takes advantage of its vast site.
Our Place

in Space
As part of the UK wide Unboxed festival, the Ulster Transport Museum site will host the first 7 planets in Oliver Jeffer's scaled sculture trail of the universe. The trail will begin at the Museum and flow down onto the greenway, opening up a new permanent entrance to the site. While the festival programming will run through September and October 2022. The trail will ultimately become part of the collections, staying onsite at UTM.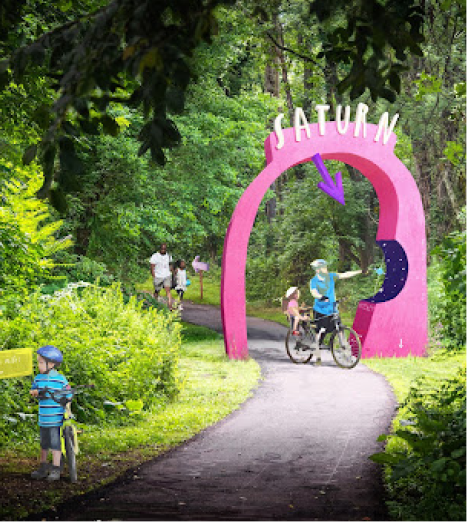 Our Vision
This masterplan will explore the potential of the site and find ways to draw the different narratives of the museum together into one compelling identity. It aims to:


Build upon the exposure and excitement of the Our Place in Space trail.
Create new visitor journeys from the new greenway path to the train station.
Encourage visitors to make repeat visits.
Utilise our vast outdoor space.
Bring motion to our static collections.
Set the Transport Museum on a journey of self-discovery, determining where it will be in the next 6 months, 2 years and 5 years.